Resourcefulness is defined as the quality of being able to cope with a difficult situation or the ability to deal resourcefully with unusual problems.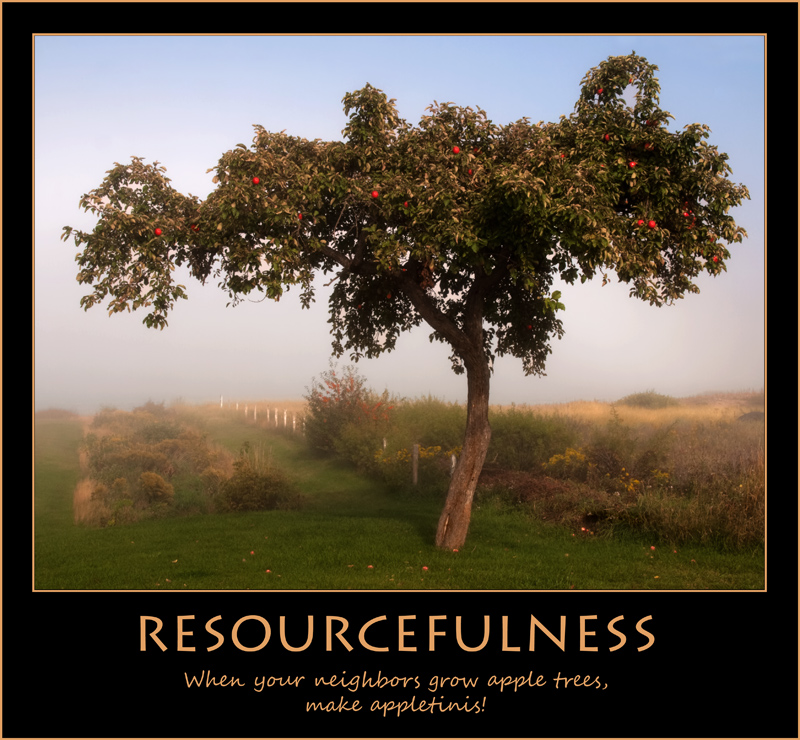 Source:
Modesty aside, when I was in grade school and high school, I was always given the award of being the most resourceful person in class or in girl scout camping and training. This trait is something I want my children to learn and carry on as they grow because it will help them meet the challenges that will come their way.
Source: TrueblissCoach's
I attribute my resourcefulness to two important factors: My Mother and Macgyver! Mama, married at a very tender age of seventeen. Having 6 children to care for, I've seen how she managed to care for us all and still looked good and happy. Watching Macgyver (oh my Macgyver, lol!) disarm bombs in a nick of time by using materials like pen or paper clips inspired me to be resourceful. Although it was just a television show, those episodes thought me to be calm under pressure. I know those who grew up with Macgyver can relate.
Source: Humor Castle
Early this morning, my being resourceful was put to test. At 5am Juan told me he needed to buy flowers to bring to school for mass in preparation for Mama Mary's birthday tomorrow. Due to limited time, we went out to our super cute (read: little) garden. Santan flower is the only flower planted in our mini garden. When we took over this house ten years ago, this Santan was already here.
With the help of recycled items (ribbons and plastic from Red Ribbon and other pastry shops), Juan brought this to school:
Source: Boswelloil
At first, Juan insisted on buying flowers. When he saw what I did, it made him smile. He never thought that this regular Santan could look this nice given the proper arrangement and much effort and love from his beautiful and sexy mom (ehem, ehem!),don't get me wrong, that's how Juan calls me - my
beautiful and sexy mom (inulit pa talaga, lol!)
According to eHOW, "teaching children to be resourceful is important for their independence and creativity. Children who are resourceful can make confident decisions and are motivated to problem solve".
Ways to encourage resourcefulness among children:
1. Allowing the children to think on their own, to try new things.
2. Provide positive encouragement when children shows resourcefulness.
3. Set an example. Walk the talk. Parents cannot teach children resourcefulness, if they themselves are not resourceful.